As a Personal Trainer, you have the capacity to lead a very different lifestyle compared to your typical 9-5 job either working for someone else or behind stuck in an office or behind a desk all day!
There are no doubts that successful Personal Trainers are well known for having that work/life balance all sorted out, and in the opinions of many others this balance is said to be the 'ideal lifestyle', and why wouldn't it be! When you commit to making Personal Training your chosen career path, it gives you more freedom simply by being your own boss, having the ability to choose your own flexible hours and being able to conduct those hours in many different environments (parks, beaches, indoors/outdoors, etc.).
Moreover, let's not forget, the fact that you have the knowledge and the skills to change the lives of others for the better makes being a Personal Trainer one of the most satisfying career choices you can make – It really is a career like no other!
Over the last decade, Australian's have developed more awareness of the benefits of regular exercise and leading a healthy active lifestyle. It is because of this that more people are jumping on board and hiring Personal Trainer's to help them achieve their goals.
With an increase in the population jumping on board with the health and fitness bandwagon it has created more opportunities within the fitness industry, and the demand for Personal Trainer has increased dramatically!
DID YOU KNOW…
Longevity within the fitness industry as a Personal Trainer is determined by your hard work in the initial 1-2 years of taking on clients.
It is during this time where you will need to build a great platform for future success for your fitness business.
It is important to remember that a successful PT career not only requires you to motivate your clients and help them achieve their goals but it also requires you to be a business owner. This means that it is your responsibility to build up and maintain your client base.
This why is it is important as a Personal Trainer to stand out amongst the rest of the Fitness Professionals in the industry! To be a successful Personal Trainer in today's ever going fitness industry, you are going to need more than just love, and passion for health and fitness and this is where VFA has you covered!
---
We have provided some tips below to ensure the success of your Personal Training Business!
OFFER TRIAL SESSIONS TO NEW CLIENTS
"The more sessions you have, the more sessions you will get"
Offering free trial sessions to prospective clients serves a number of purposes. It is a great way to create more business and get more clients by building rapport with people that you have not yet met.
HOT TIP #1:
If you plan on offering free trials to new clients, it is important to make sure your free trials are strategically planned as you do not want to end up investing too much energy or time without making any profit in the end.
A great way to structure your free trial sessions is to make sure you target the right crowd at the right time! The best way to achieve this is to be mindful that most people tend to be creatures of habit and usually have a schedule to stick to, therefore, they train at the same time of the day.  For example, between 6 am, and 10 am you generally get you 'morning crew'.  If your goal is to gain any of 'crew' as clients, offer them free trials around these times. By offering trials to these clients, more and more members of the facility will take notice of you while you are training others.
HOT TIP #2:
To create a solid client base, it is important to be 'seen' taking sessions! Even if the sessions you are taking are free sessions. This puts out the image of 'success' and makes you attractive to more prospective clients.  The typical thought process when someone sees's you training others and keeping busy is, "if he/she is training that many people, then they must be a good trainer!''
The more people that see you training others around them, the more likely they are to think of you as a PT—and then, sooner or later, they could potentially be asking you to be their PT.
BE READY TO WORK HARD!
Another important factor to consider as a fresh personal trainer is the fact that you need to work hard, or 'grind' as most people like to call it these days! If you are not ready to work hard (or grind) then just like in any other industry, you will not reap the benefits.
The best part about being a Personal Trainer is the fact that if you actively want to be the best trainer, you will eventually be the busiest, and this has nothing to do with knowing how to 'run a business'.
OUR SUGGESTIONS:
The best way to go about activity trying to be an amazing trainer is simply by 'going the extra mile'. If you are the type of trainer that goes out of your way to offer value to your clients, then people will genuinely 'like you' and be drawn to you.  And,  we all know that people are not going to train with someone they do not like!
NETWORK AND BUILD RELATIONSHIPS
'Your network is your net worth' – You can NEVER do enough Networking, especially in the Fitness industry!
Networking includes anyone, from other Personal Trainers all the way down to your local butcher or hairdresser. Being a Personal Trainer requires you to make smart business choices. A smart business knows that an important aspect to consider is building relationships. Whether it ties in directly with your business as a Personal Trainer or not, it really doesn't matter.
Don't be afraid to also network with other Health Professionals such as Physiotherapists, GP's or Chiropractors. They send their clients to you; you send your client's to them, and you both get new client's plus the two careers often work hand in hand to benefit the goals of the client
ALWAYS LOOK TO IMPROVE – CONTINUE YOUR STUDIES
Like any industry, you need to keep studying, exploring and building your knowledge – knowledge is power! Whether you choose to study more for your particular niche or further your studies in Nutrition or Health and Wellness in general, you can never learn enough!
HOT TIP:
Continual improvement will give you that competitive edge over the trainer that is happy to just go through the motions every day.
*Keep your eyes peeled for the VFA's very own Nationally Accredited/Certified Nutrition course that we are releasing later this year.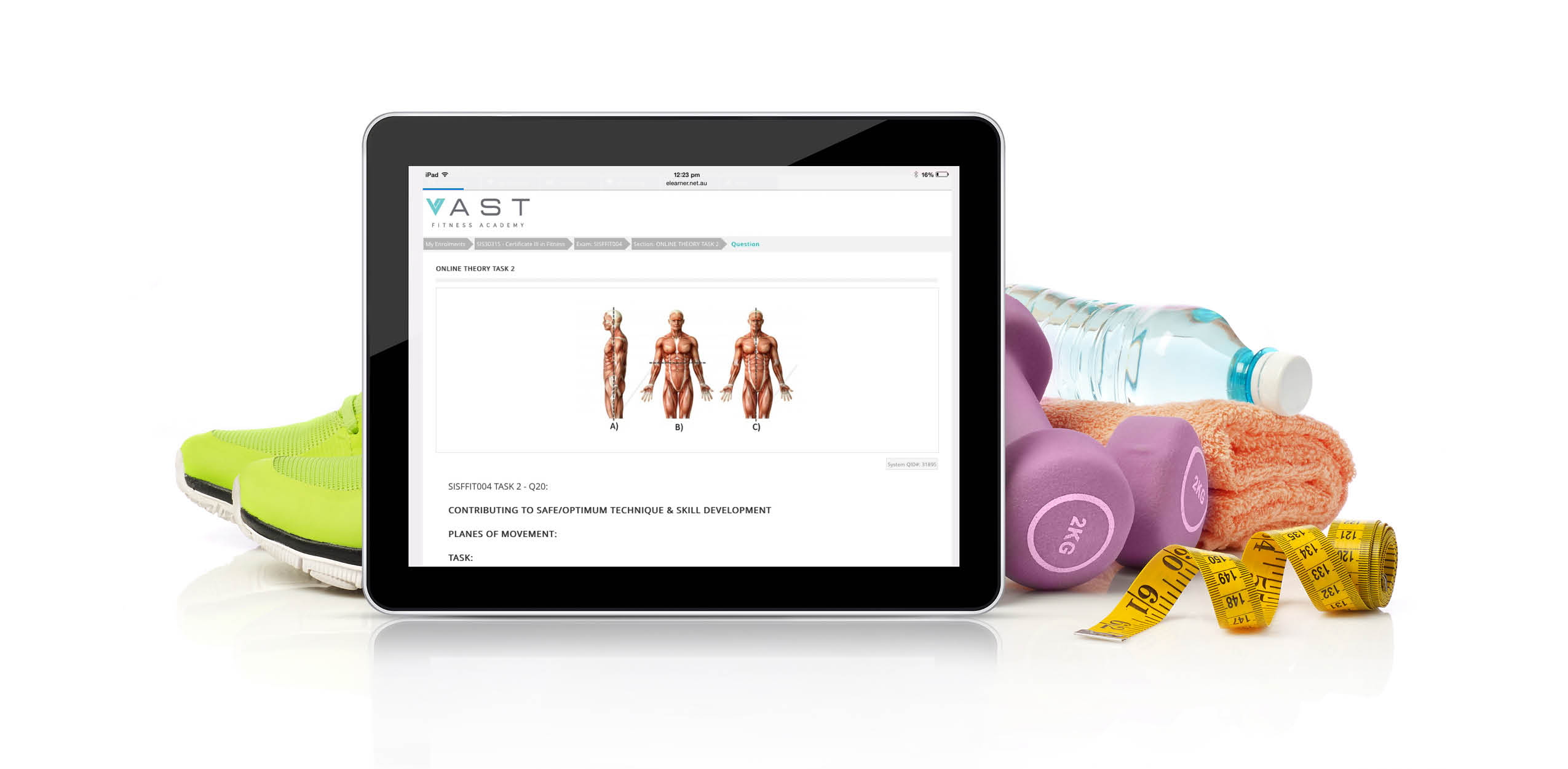 HAVE THE RIGHT ATTITUDE, PASSION AND DRIVE
If you do not have passion, you will never reach your full potential as a Personal Trainer.
Remember people are coming to you to help change their lives for the better. Make sure you actively share your knowledge with as many people as humanly possible to help others achieve their health and fitness goals.
In this industry, the right attitude is vital. To be able to effectively provide results to your clients, you need to have the following attributes:
A willingness to listen
Motivation to help people achieve their goals
Passion and the drive to succeed
Dedication and enthusiasm
Professional, punctual and organised
The ability to be flexible with work schedules
Honest and reliable
LOYALTY AND RESPECT
Simply by creating genuine loyalty and respect within your clients, this can ensure a sustained income stream. Devoted clients are generally excited about their training, are more likely to turn up on time and book regular sessions. It is also very common for the client to return to a personal trainer that they are loyal to after they go on holidays or take any time off.
HOT TIP:
While it is great to have loyal clients, it is important to remember that this also works both ways – you too should be a loyal trainer! The best way to achieve this is simply to remember things like their birthdays or important things they have told you in the past, praise them for their accomplishments and make an effort to openly connect with them on a personal level.
KEEP THE DETAILS OF ALL ENQUIRIES
Don't forget about any enquiries that have been made about your services in the past! It is important to create and maintain the details of all your clients as well as prospective clients who may have inquired but never ended up booking any sessions!
By recording their details, it gives you the ability to market to them in the future. For example, you may want to send them a newsletter, a promotional offer, flyer or package you have to offer that they may not be aware of in the past.
SELL YOURSELF!
When working as a Personal Trainer, 'sales' is a huge part of earning a good salary and maintaining or improving your fitness business.
The best way to go about this is to reinforce the reasons for why your client came to you in the first place – you know all about the benefits of healthy eating and regular exercise, but now it is up to you to instill this into your prospective (or current) clients.
Remember, if clients trust that their trainer can truly support and help them attain results, then they are far more likely to remain training and potentially commit to more sessions.
Another way to achieve success without being a pushy 'sales person' is to make sure your clients' goals and progress are being tracked and recorded! This, in turn, can help your clients to recognise that is quicker and easier to achieve results with the advice and guidance of a professional (you). Also remember that happy clients are returning clients so when you notice improvements, make sure you tell them!
BE YOUR OWN ADVERTISEMENT
Besides the obvious of 'looking the part' as a Fitness Professional by also living a healthy active lifestyle, it is also a great idea to 'advertise' yourself as a Personal Trainer!
The best way to go about this is to wear clothing with your company name or logo whenever you are in public or go to any fitness related events. By making yourself a 'walking billboard,' this can be a simple, low-priced way for other to recognise you as a Personal Trainer.